Masters in Hotel Management
in Switzerland
Switzerland is historically known as the birthplace of the hospitality business. The country has played a significant role in industrializing this sector since the 19th century and has managed to set world-class parameters for education and services in hotel management since then. It has evolved with changing times so much that, according to QS World University rankings, some of the top academic institutions providing hotel management education belong to this touristy land.
But post-pandemic, many students looking forward to pursuing studies in this field might be doubtful about their decision as the coronavirus had a severe impact on the tourism, hotel and leisure industries worldwide. After a series of lockdowns and multiple restrictions on travel, countries are recovering from this dreadful phase and getting back on track. Swiss universities too, are returning to normality and set to welcome students without covid restrictions.
This is a great time to know more about the opportunities available in one of the booming industries that can take you to places around the world!
What constitutes Hotel management?
In simplified terms, it has everything to do with hotels or lodging establishments. It broadly includes Food & Beverage, Housekeeping, Front office, marketing, finance and catering services. Students will get the chance to sharpen their communication and organizational skills. Learning this course will give you the opportunity to travel around the globe and work in high-end restaurants, hotels, resorts, cafes and establishments that fall into this category. 

Back in the homeland, Indian Railways, Indian Navy Hospitality Services, shipping and cruise lines, state tourism development corporations, and sectors similar to these offer job roles like IRCTC (Railway) Catering, FSSAI Jobs, the Food Corporation of India (FCI), the Indian Navy Catering & Hospitality Services, and the Army Catering, and the Government Airlines. Knowing how much Indian families are captivated by government jobs, these examples present an overview of a commendable career in hotel management. So if you are interested in exploring this side of the world where you get to treat people with warmth and make sure their leisure time is worth remembering, you are up for learning this course.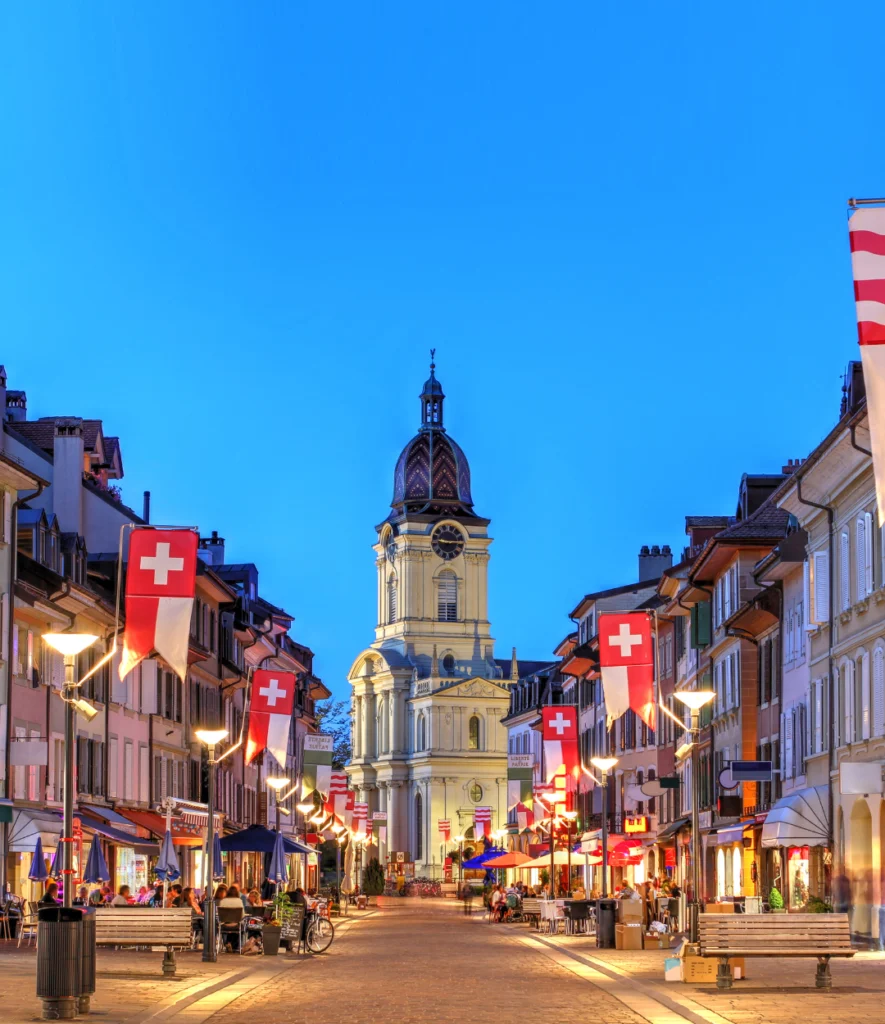 Why is Switzerland the best place to learn hotel management?
The country has offered a great education model comprising detailed, intelligent and prompt qualities necessary to work in this space. 
Post graduation in hotel management is allowed for students coming from any educational background. It is a one-year course wherein, students have to engage 6 months into academic practice and another 6 months job experience in famous hospitality brands like Royal Caribbean cruises, Marriott and The plaza. The employability rate is high after getting hands-on experience in such luxurious spaces – meaning monthly income starting from 1 lakh and ahead. These colleges are pro-experiential learning and aim to facilitate design thinking, entrepreneurship, and leadership skills that are a must for aspiring hoteliers. 

Moreover, students have free access to sports and trips with a Schengen visa that allows hassle-free and visa-less (no additional permit required) travel to most Nordic and Baltic European countries. They will be exposed to people from several cultures, which adds to their overall growth of personality.
We provide free mentorship!
Our agency has a tie-up with some of the most eminent institutions of Switzerland providing courses in this field. Our services include visa assistance, admission guidance, profile based counseling, test preparation and much more. We offer proper guidance for the application process, interviews and comprehensive search for these opportunities.

We have successful Indian examples like Pooja Dhingra (César Ritz Colleges Alumni) and Chiquita – Sumit Gulati ( Les Roches Alumni), who have made their mark in this industry. Both of these universities are considered to be the finest in this arena. Take note that this industry will flourish more in the coming ages and Switzerland can be the best place to explore this career opportunity. Plus you will be able to earn exceptionally well. We will be happy to help you to begin your journey without a worry. Give it a thought if you haven't yet!